Within my Coven of Sisters, there are different ladies who specialize in different areas of the craft. A "touched" item from any one of them may be available for purchase.
Sister Alyssa is a Hedgewitch specializing in the brewing of herbal blends. She is the youngest member of the coven but very very gifted, from a long lineage of the craft. Her blessings deal with matters of the mind, soul, and body. She has excellent multi-spell infused pieces (some vintage, some newer). Just a few examples of her blessings would be: Healing, Good Health, More Energy, Physical Fitness & Weight Loss, Mental Stability, Grieving a Loss, etc.
Sister Mallory is our "Witch of Love". She is very good at what she does and has brought many couples together. She also deals with all matters of the heart. Many of her pieces are made with garnets, rose quartz, and rubies, as they have natural attributes generating love, as well. For Great Love, Sex Drive, Relationship Harmony, Emotional Healing, Magnetically Attracting Soulmate, etc, Mallory is your girl.
Sister Lorraine: If you are looking for sunshine and happiness, Lorraine is the right lady to receive a blessing from. She blesses her things with blessings such as: True Happiness, Attracting Prosperity, Good Things Manifest, Success, Self Confidence, Joy and Light, Positive Vibrations, Banishing Negativity, etc. Many of Lorraine's baubles are made with the sunny gemstone of Citrine.
Sister Sylver is very very good at helping folks financially. She deals with emeralds, malachite, sapphires, and moonstones. Just a few of her blessings are ones for Great Wealthy, Prosperity, Financial Security, Unexpected Monetary Gain, Good Fortune, & Winnings to Wearer.
Sisters Nathalye & Jillian work as a team and are both very spiritually gifted. They actually are able to infuse their blessings into amulets for practicing spellcasters to use. Just a few of their wonderful blessings are for Clairvoyance, Psychic Visions & Intuitions, Levitation, Out of Body Experiences, Channeling, Medium Work, Healing Energy to Body, Mental Telepathy, Opening 3rd Eye Chakra, etc. So, if you are in need of heightening your skills for the craft, their things are awesome!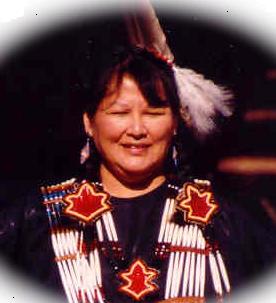 Just a few of the other ladies who often have things for sale are: Sister Lilah, Sister Jacqueline, Lady Kim (Senior Advisor), & Sister Mia (High Priestess).
Another of my mentors is a lady I came to know about ten years ago. I was going through a "bump" in life and went to her for a personal reading. She has become a dear friend, mentor, and really helps me with my estate sale "testing" for energies. Her name is Shaye, (pictured left) and she is a Native American Indian. Her tribe is Cherokee and most of her family are in Oklahoma. Shaye married out of the family but still remains close with many of her family members, joining for reunions and participating in heritage events. Shaye has a wonderful PSYCHIC gift. She is very good at reading and advising on life's journey. Many of her family's turquoise pieces can be purchased through myself. They are all amulets (most antique and hand made by her tribe). Many have been worn by several tribe & family members. They are all high quality rings made of sterling silver and mostly, turquoise, onyx or coral. The blessings will vary from piece to piece. Please feel free to ask for one of Shaye's items, if you are interested in this type of amulet.
In addition, I have many items from mentors under whom I, myself, have studied. Just a few are: Moira Wright, Maggie Reardon, Angelique Montague, Philomena Hadji, Imola Pollegioni, and, of course, Ella Mae (my active partner).

At the age of eleven, Ella Mae (pictured at right, in Carnivale costume) moved to St. Thomas in the Virgin Islands from Trinidad to live with her Aunt Louise, who runs a duty-free shop there. I  discovered her while on vacation through local recommendation, when I asked if there was a REAL psychic on the island. Ella Mae does her readings & spell casting in a back room of Aunt Louise's shop, accepting only donations for payment.
Ella Mae and I have been friends now for many years and we visit each other when we can. Ella Mae LOVES life and is a free spirited, GIFTED lady. Her spells are amazing, and believe me, I've tried MANY. I talk with her weekly and I receive a weekly shipment from her with a surprise assortment of goodies. I market her enchanted items, each of which has a unique spell cast on it. Because of importing to U.S. for me to sell, most items will be small. Occassionally, I may buy things here and send to her to cast and return, or, I may request things for special orders. Most will be new, some old, but all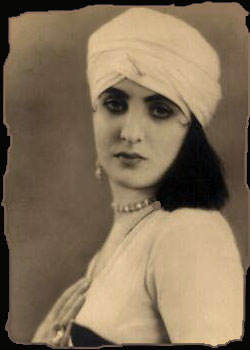 with Ella Mae's VALUABLE spells!
AUTHENTIC SALEM WITCH ITEMS AVAILABLE: I have a large collection of vintage cameos, rosaries, and hankerchiefs from the estate of my dear Great Aunt Mary Barrett O'Day (pictured, left). She was a true Salem Witch (white magick, only!) and a midwife and healer. Her powers are strong, and many people who have received her items have reported visitations from her (don't worry, this is a very pleasant experience and Mary's is a comforting and often healing presence). Her items are available by special order and request.